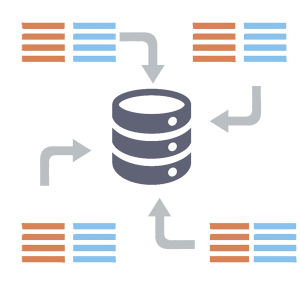 Data warehouse database used for reporting and data analysis. It is a central repository of data which is created by integrating data from one or more disparate sources. Data warehouses store current as well as historical data and are used for creating trending reports for senior management reporting such as annual and quarterly comparisons.
Warehouse
A data warehouse constructed from an integrated data source systems does not require ETL, staging databases, or operational data store databases. The integrated data source systems may be considered to be a part of a distributed operational data store layer. Data federation methods or data virtualization methods may be used to access the distributed integrated source data systems to consolidate and aggregate data directly into the data warehouse database tables.
As true Hadoop integrators and fans NetAngelS professionals build and support any Scale Data warehouses on top of Apache Hive, Cloudera Impala and Spark. All mentioned technologies relies on Hive Metadata storage and uses SQL dialect named HiveSQL for querying data.
All mentioned technologies uses Hadoop HDFS or HBase as storage, But unlike Hive Impala and Spark does not relies on Hadoop Map/Reduce to analyze Data. All data can be aggregated from any ODBS compatible database like MySQL and/or streamed directly to Data warehouse for future processing.
Our professions will help you to design, build and support Petabyte scale Data warehouses, aggregate needed data from SQL databases or plain text streams and use it in accordance to your needs.