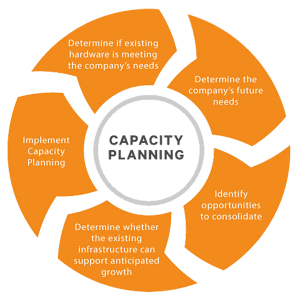 Capacity planning is a strategic activity within the Capacity Management process that focuses on putting together a capacity plan, using the present to predict the future.
Almost everyone will acknowledge the importance of capacity planning, ensuring that adequate capacity in IT is planned for and provided, particularly when so many organizations are completely IT dependent. After all, poor capacity planning can impact the business financially and have an adverse effect on your organizations reputation.
The idea of capacity planning is to identify the right amount of resources required for service demands now and in the future. This discipline is proactive and aims to:
Help to show the cost and business need for infrastructure upgrades;
Ensure that consolidated real and virtual system configurations will meet service levels
Minimize costs of ITIL processes, because capacity planning is one the hallmarks of mature IT management processes;
Help making purchasing decisions, minimizing costs needed to maximize productivity;
Help application development, predicting the impact on production systems of new or modified applications;
Creation of disaster recovery plans, determining the optimal way to handle workloads after a catastrophe at one of your data centers;
And more…
The benefits are pervasive, and the effects are game-changing. IT organizations become more productive, spending less time fighting fires and more time proactively thwarting performance issues before users are impacted. A more agile IT emerges from understanding current and future resource needs. Budgeting is more disciplined and costs are controlled. The IT organization exhibits value and a competitive edge recognized – and appreciated – by the business.
NetAngelS professionals will help you to plan and build any scale network environment. We plan and build horizontally scalable networks, and help our clients to fully utilize network infrastructure . With us you will be sure that your IT capacity meets current and future business requirements in a cost-effective manner. Our professionals will build networks which will be:
Cost effective
Grow in respect of your business needs
Fully utilized
Fault tolerant
Tunned in accordance to your specific needs
We will determine your current and future perspectives and build reliable network which will exactly match your needs.